Support us Online
eScrip
Imagine:
You're shopping online at Amazon, and as you check out, you're asked if you want 2.4% of your purchase to support Villa Sinfonia. No-brainer! This is the beauty of escrip's new AutoEARN program! (For families already supporting a child's school - how about signing up for Villa as well, sending contributions to both?)
The AutoEARN system allows you to earn significant amounts for Villa Sinfonia every time you shop online, without signing onto the escrip site! Simply sign up once for escrip, designate Villa Sinfonia as the program to support and sign up your credit cards (and also member cards for Macy's, Draegers, and Mollie Stone Markets). Then, go to the Online Mall page and download the AutoEARN app. Anytime you shop online (or in stores, of course) a percentage of your purchase will be donated to Villa! If you prefer not to download AutoEARN, you can still access Amazon and countless other shopping sites from eScrip's Online Mall page. eScrip shopping could earn Villa thousands of dollars if everyone signed up!!!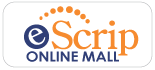 Here are some of the stores and the percentages that they donate to our cause:
| | | |
| --- | --- | --- |
| Amazon - 2.4% | Nordstrom - 5.7% | Lancome - 6% |
| Home Depot - 3.6% | Apple Store - 1.2% | Priceline.com - 3% |
| FedEx Office - 5.4% | PetSmart - 4.8% | Harry & David - 4.2% |
| REI - 3% | Target - 2.4% | |
Amazon Smile
Amazon donates 0.5% of the price of your eligible AmazonSmile purchases to the charitable organization of your choice. AmazonSmile is the same Amazon you know. Same products, same prices, same service. Support your charitable organization by starting your shopping at smile.amazon.com.
Go Fund Me
The beauty of GoFundMe is that it allows campaign organizers to invite others to take part in their story. Just as we share parts of our lives on Facebook, we also want to share our dreams, pursuits, celebrations and challenges online with crowdfunding. People will always be eager to support others they care about. GoFundMe removes the physical barriers traditionally associated with receiving financial support from the people in our lives.